今すぐiPhoneのロックを解除
Apple IDのロックを解除し、画面のパスワードを削除し、画面の時間をバイパスします。
Unlock iPhone Successfully Using The Leading Methods

更新者
リサ・オウ
/ 07年2023月16日30:XNUMX
My nephew was playing with my iPhone last night and kept getting it even without my permission. Hence, I had no choice but to change the passcode since it was already late, and he needed to go to bed. However, I was so sleepy that I didn't remember the new passcode I had set when I woke up this morning. Can you help me unlock my iPhone 12 Pro Max?
Being locked out of your iPhone is a common problem you may face every once in a while. This happens most often when you recently change your password and forget it immediately, as your old one is probably engraved in your mind. Or in other situations, too many password attempts by other people may have been made to unlock your iPhone but failed to do so. When this occurs, you must find a safe strategy to unlock your device without causing damage. Thankfully, we identified the leading solutions for this issue after going around the web. Kindly understand the top methods listed below to start unlocking your iPhone.

ガイド一覧
Part 1. How to Unlock iPhone Using FoneLab iOS Unlocker
FoneLab iOS ロック解除ツール is a reputable program to help you out of your locked iOS device. If you forget your iPhone passcode, Apple ID, etc., you can rely on this tool to save you from trouble. It doesn't only function on an iPhone but also an iPad and iPod Touch, so you know it will be worth installing. Moreover, FoneLab iOS Unlocker lets you bypass your Screen Time restriction passcode without losing a single file or data on your device. It doesn't matter if your iPhone screen is unresponsive, disabled, or in other unfortunate situations. You can trust this unlocker to remove its password regardless.
iPhone画面のロック解除に役立ちます。
Apple IDまたはそのパスワードを削除します。
スクリーンタイムまたは制限パスコードを秒単位で削除します。
View the secure instructions below to figure out how to unlock iPhone without passcode using FoneLab iOS Unlocker:
ステップ 1Save a FoneLab iOS Unlocker copy by accessing its official webpage and hitting 無料ダウンロード on the lower-left screen. You may choose the button with the Windows logo or view the one with the Apple logo by clicking Mac版へ. Once saved, click it and grant permission for the program window to display the Install button. Click it, then operate the program installation to launch it on your computer afterward.
ステップ 2Once the FoneLab iOS Unlocker runs, you will see its key functions on its primary interface. The Wipe Passcode function is for removing an iOS device screen lock. Next, as its name suggests, the Remove Apple ID dismisses your iOS device's Apple ID. Meanwhile, Screen Time removes the restriction password. Pick パスコードをワイプ.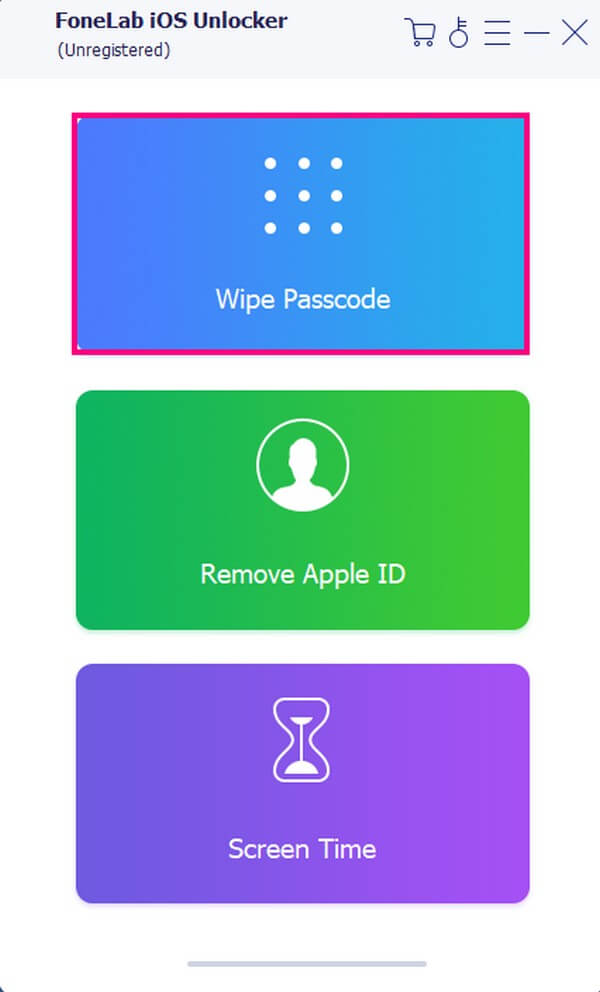 ステップ 3Hit Start on the following interface, then attach your iPhone using a USB cord to the computer. It will let the unlocker read your device and display its information, including the device category, type, and model on the interface. Check the info and confirm correctness by clicking the 開始 tab below your iPhone's iOS version.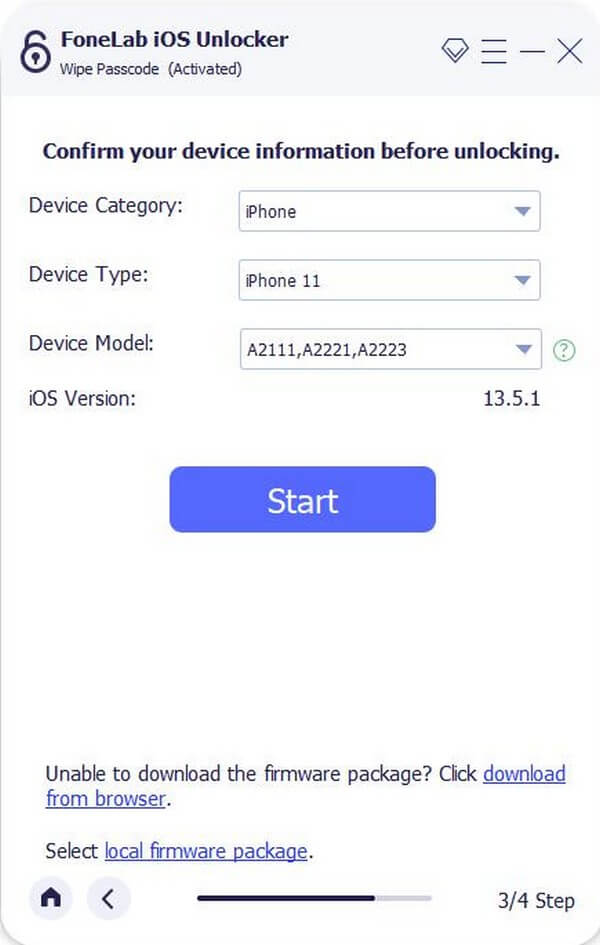 ステップ 4Expect the firmware package to be downloaded, and when it's finished, click アンロック, leading you to the last step, which requires entering 0000 in the field. But before proceeding, understand the warnings written below. Finally, click the アンロック button next to the field to remove your iPhone password.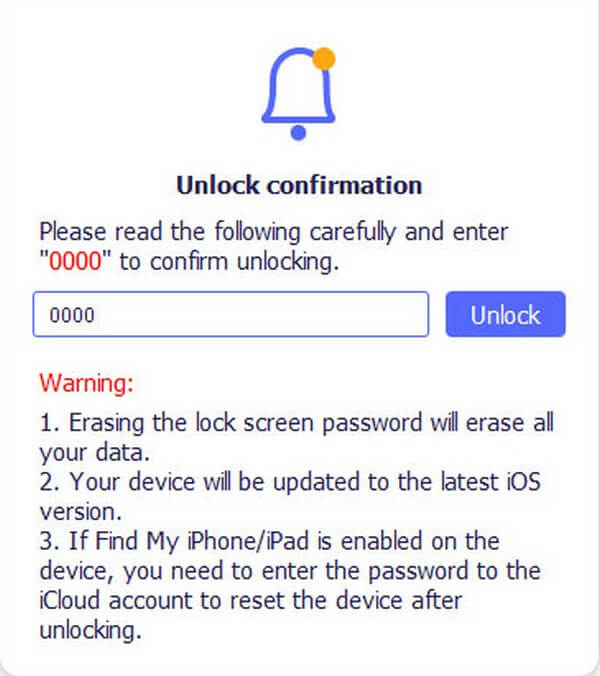 iPhone画面のロック解除に役立ちます。
Apple IDまたはそのパスワードを削除します。
スクリーンタイムまたは制限パスコードを秒単位で削除します。
Part 2. How to Unlock iPhone via iCloud Remotely
If you prefer to unlock your iPhone remotely, one of the strategies you can consider is using iCloud. This service is primarily used for storing your device data with its free 5 GB of storage. But among its helpful functions is the Find My feature, which can remove your iPhone lock by erasing the device. However, this feature must have been enabled on your iPhone beforehand. If not, you won't see the device you wish to unlock on the list of devices activated on your iCloud's Find My function.
Observe the unchallenging steps underneath to unlock iPhone 12 via iCloud remotely:
ステップ 1Navigate to the webpage of iCloud on your computer or other compatible devices. Hit 登録 and wait for the login field to display on the page. Afterward, enter your Apple ID and password to access your iCloud account to sign in.
ステップ 2iCloud features will display on its interface. You must look for the 私を探す icon and click it to see your desired option. You will see a map on the next page that shows your device's location. View all the devices on your Find My service, then select the iPhone you hope to unlock.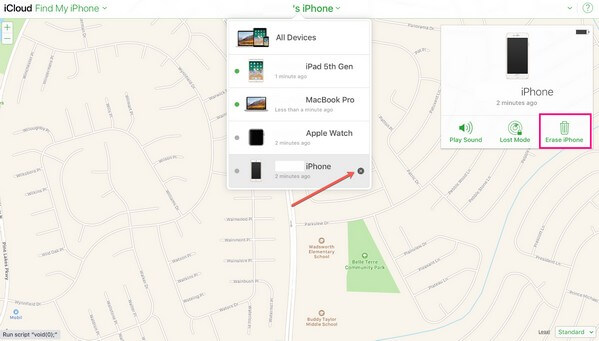 ステップ 3When the device options come into view, pick the iPhoneを消去する tab and confirm the deletion. The service will then erase your device data, giving you your iPhone back with its default settings. Then you can operate your unlocked iPhone again.
Part 3. How to Unlock iPhone with iTunes or Finder
iTunes is also one of the programs to trust when unlocking your iPhone. Its Restore function will help you recover your device with the password removed. Meanwhile, note that iTunes is now only on Windows and earlier macOS versions. If you use Mac running a later version of MacOS, you can use the Finder instead.
Bear in mind the effortless directions below to determine how to unlock iPhone XR with iTunes:
ステップ 1Download or install iTunes if the program is not yet on your computer, and ensure you get the latest version. Afterward, launch it and link your iPhone using a lightning cable.
ステップ 2You can expect iTunes to recognize that your iPhone is locked. Hit the 携帯電話のアイコン on the iTunes upper left interface, then direct to the まとめ のセクションから無料でダウンロードできます。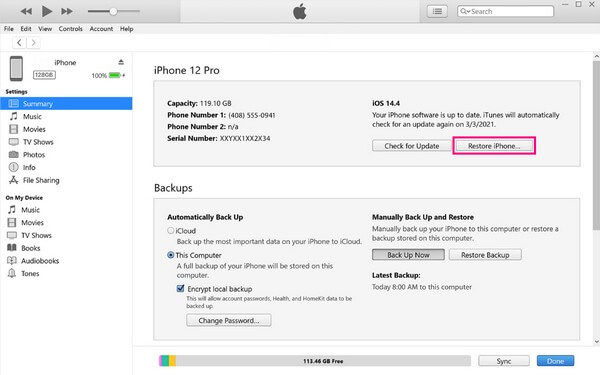 ステップ 3The box below your iPhone name will contain your device information. Click the iPhoneを復元します。 tab under your iOS version info on the left portion. When prompted, hit リストアをタップし、その後、 同意する to restore and unlock your iPhone.
However, your iPhone must be synced with iTunes or Finder on computer before you can operate this method. Otherwise, you won't be able to recover your device since it is not synced. Also, this method takes longer than the other ones in this article.
iPhone画面のロック解除に役立ちます。
Apple IDまたはそのパスワードを削除します。
スクリーンタイムまたは制限パスコードを秒単位で削除します。
Part 4. FAQs about How to Unlock An iPhone
どのキャリアでもiPhone8 Plusのロックを無料で解除するにはどうすればよいですか?
はい。 iPhoneIMEI、iPhoneauthorizedunlock、Simunlockなどのオンラインロック解除サービスを開きます。 iPhoneのロック解除注文をオンラインで送信できます。 パスワードなしでiPhone2 Plusのロックをリモートで解除するには、5〜8営業日かかります。 その後、iPhone8キャリアのロックを解除できます。 注文して購入を完了します。
1. Can you unlock iPhone 8 with Siri?
はい。 Siriの音声コマンドを使用して、iPhone8とiPhone8Plusのロックを無料で解除できます。 iOS8とiOS9の間で実行されているiPhone12.1を使用していることを確認してください。 ちなみに、iPhone8でSiriを有効にする必要があります。
2. Why can't I unlock iPhone with iTunes?
まず、信頼できるコンピューターを使用する必要があります。 そうしないと、iTunesはパスワードなしでiPhone8を検出できません。 次に、 USBアクセサリ 有効になっている場合。 あなたは行くことができます 設定 および タッチIDとパスコード チェックする。 第三に、iTunesを使用してiPhone8の画面ロックパスワードのロックを解除できます。 しかし、ロックを解除することはできません iCloudアクティベーションロック iTunesで。
3. Can I unlock my iPhone myself?
Yes, you can. You can quickly remove your iPhone lock by trying at least one of the recommended techniques above. There are only inevitable consequences, like erasing your data, but it still lets you unlock your iPhone. For instance, you can try the FoneLab iOS ロック解除ツール even without the help of others with advanced knowledge. This program only requires the basic instructions above to unlock your device.
4. Is it possible to unlock my iPhone from another device?
Yes, it is. You can unlock your iPhone with another device using the 私を探す feature on iCloud. All you must do is sign in on the 私を探す app or the computer to operate the デバイスを消去する function. Alternatively, FoneLab iOS ロック解除ツール can also help you unlock your device on the computer.
We hope the strategies we provided were helpful enough to help you unlock your iPhone. If you have more device concerns, more solutions are available on the FoneLab iOS ロック解除ツール サイト。
iPhone画面のロック解除に役立ちます。
Apple IDまたはそのパスワードを削除します。
スクリーンタイムまたは制限パスコードを秒単位で削除します。