iOSの問題を今すぐ修正
からiPhone / iPad / iPodを修正 DFUモード、リカバリモード、Appleロゴ、ヘッドフォンモードなど、データを失うことなく通常の状態に戻します。

電話データを今すぐ転送
iPhone、Android、iOS、コンピュータからどこへでもデータを損失なく転送できます。
Fix iPhone Battery Drain Easily Using The Top 7 Methods

投稿者
リサ・オウ
/ 27年2023月09日00:XNUMX
Lately, my iPhone has been draining faster than usual. I can't pinpoint what the problem is exactly, so I don't know what actions I should take. Does anyone know how to fix the iPhone 12 Pro Max battery drain? I hope someone helps me. Thanks in advance.
Does your iPhone often experience a fast battery drain? iPhones or other mobile phones, in general, are considered a necessity nowadays. You use them daily for various purposes, whether for important or trivial activities. People can't deny how important it has become as time goes by. You don't only use it in your leisure time to play games, watch movies, and scroll on social media. Hence, it is hard when the iPhone's battery gets drained. It prevents you from doing the activities you usually do every day on your iPhone.

Fortunately, methods are available to help you minimize the fast draining of your iPhone's battery. But prior to that, see first the potential causes of why your battery drains faster than normal. The common reasons why this problem happens will be stated below to give you an idea of how to fix it more quickly. Third-party tools, manual fixes, and methods will then follow. Please keep reading to fix your iPhone's battery now.
ガイド一覧

FoneLab iOSシステムの回復
FoneLabはiPhone / iPad / iPodをDFUモード、リカバリーモード、Appleロゴ、ヘッドフォンモードなどからデータを失わずに通常の状態に修正することを可能にします。
無効化されたiOSシステムの問題を修正します。
データを損失することなく、無効なiOSデバイスからデータを抽出します。
安全で使いやすいです。
Part 1. Why iPhone Battery Drain
Have you tried doing an iPhone 14, iPhone 8 or iPhone 6 battery drain test? If you have, then afterward, you should have discovered the battery drains faster than before, there is undoubtedly a reason why this happens.
You can find various possible causes, but one of the first things you can speculate is because of too many apps running at the same time. When many apps are active on your iPhone, they tend to absorb more energy, causing the battery to empty faster, especially when the apps or one of the apps is power-intensive. We recommend closing the ones you're not using to save battery. However, some apps still run in the background even when closed. It's up to you to save battery charge and erase the app or keep it while the battery drains more than usual.
Another cause why the battery life drains faster is because of continuous internet usage. As many people know, enabling Wi-Fi or mobile data takes up more battery life. And that doubles when you stream videos online, like on YouTube, Facebook, Netflix, TikTok, and more. If you don't want them to take up too much of your battery life, you should reduce the time you reserve for using them.
Part 2. How to Fix iPhone Battery Drain
Now that you know some of the reasons for fast battery drain, look at the methods to fix the problem below and try the ones you think will work on your device.
Method 1. Charge iPhone
It's important to charge your iPhone every now and then to regain its battery life. Ensure not to interrupt the charging process by using it at the same time. If you do, it affects the battery poorly, causing it to charge slower yet drain faster. Also, plug it out only when the battery is full. Or else it will also have a bad effect on your battery.
Adhere to the easy steps below to charge battery drain iPhone:
ステップ1Grab the iPhone's charger and input it into your device port.
ステップ2Plug the adapter on the charger's other end into a functioning outlet.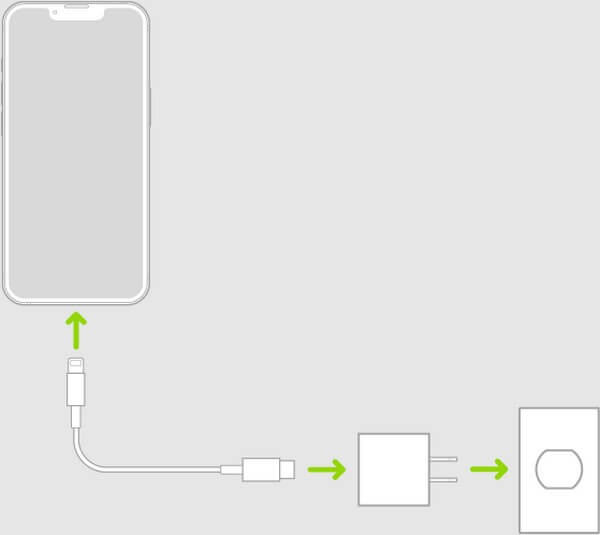 FoneLab iOSシステムの回復
FoneLabはiPhone / iPad / iPodをDFUモード、リカバリーモード、Appleロゴ、ヘッドフォンモードなどからデータを失わずに通常の状態に修正することを可能にします。
無効化されたiOSシステムの問題を修正します。
データを損失することなく、無効なiOSデバイスからデータを抽出します。
安全で使いやすいです。
方法2.iPhoneを再起動します
Simple issues can be fixed easily when you reboot an iPhone or many other devices. Hence, a quick and risk-free reboot might work to solve the issue that causes your iPhone battery to drain.
Adhere to the easy steps below to fix a drained iPhone battery by rebooting:
ステップ1Whether your iPhone has a Home button or not, press the Up Volume ボタンを押します。
ステップ2次に、を押します Down Volume button. Make sure to do it quickly.
ステップ3最後に、を押します button and don't release until you see the Apple logo on the screen.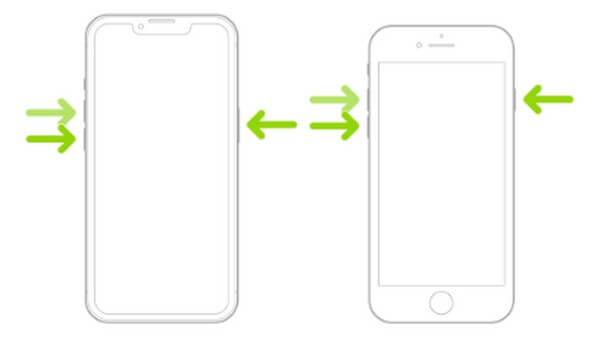 This method can only fix simple device issues, so if it fails, several methods are still available in the following parts.
Method 3. Dim iPhone screen
Too much brightness can also be the cause of why your iPhone's battery unloads faster. You can try to dim your device's screen to fix this problem. Not only will it take less of your battery life, but it will also reduce eye strain.
Adhere to the easy steps below to fix iPhone models like iPhone 7 battery drain overnight by dimming its screen.
ステップ1Video Cloud Studioで コントロールセンター あなたのiPhoneで。
ステップ2Once you see the brightness bar, adjust it down to dim its screen.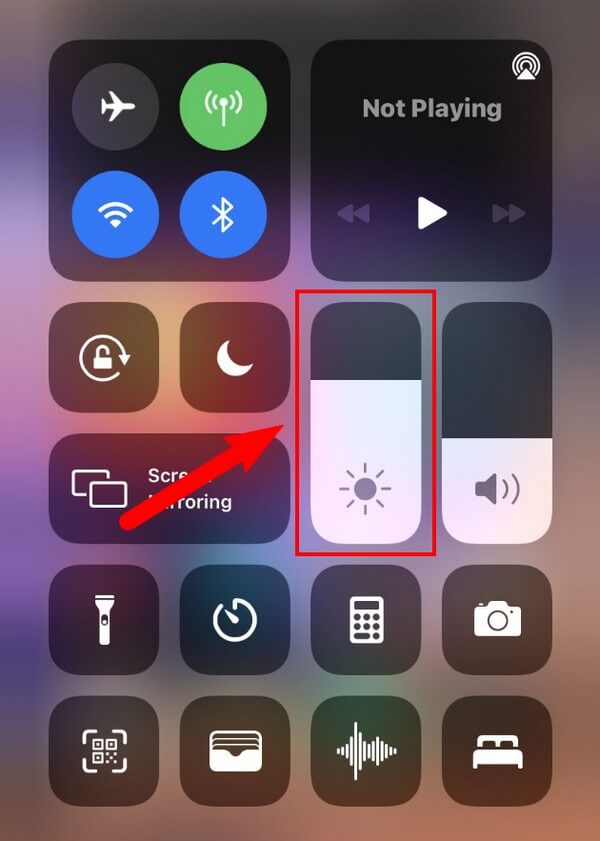 Method 4. Turn On iPhone Auto-Brightness
This method is quite similar to the previous method. The only difference is that this one automatically adjusts your iPhone's screen brightness depending on the current light conditions.
Adhere to the easy steps below to turn on the drained iPhone's auto-brightness:
ステップ1Tap your iPhone's 設定 アイコンをクリックし、 アクセス性 .
ステップ2選択する 宿泊施設を表示する from the options and enable 自動明るさ.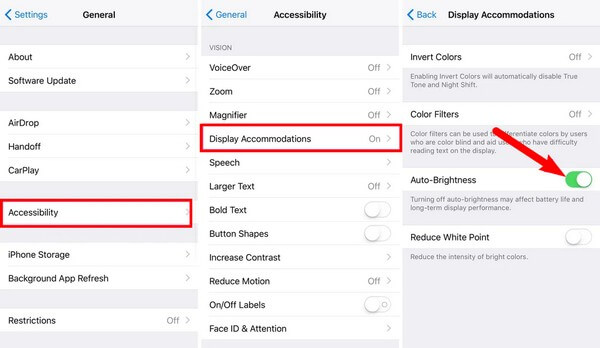 FoneLab iOSシステムの回復
FoneLabはiPhone / iPad / iPodをDFUモード、リカバリーモード、Appleロゴ、ヘッドフォンモードなどからデータを失わずに通常の状態に修正することを可能にします。
無効化されたiOSシステムの問題を修正します。
データを損失することなく、無効なiOSデバイスからデータを抽出します。
安全で使いやすいです。
Method 5. Update Apps
A power-intensive app might have a new update that lessens the power it takes from your iPhone's battery life. Hence, try updating your iPhone apps to see if they fix the draining battery problem.
Adhere to the easy steps below to fix the battery drain iPhone by updating apps:
ステップ1起動する App Storeで あなたのiPhoneで。
ステップ2At the top of the screen, tap your profile and scroll down to see the options.
ステップ3をタップできます アップデイト buttons beside the apps you need to update. Or scroll more until you see the すべて更新 option. Tap it to update all your apps.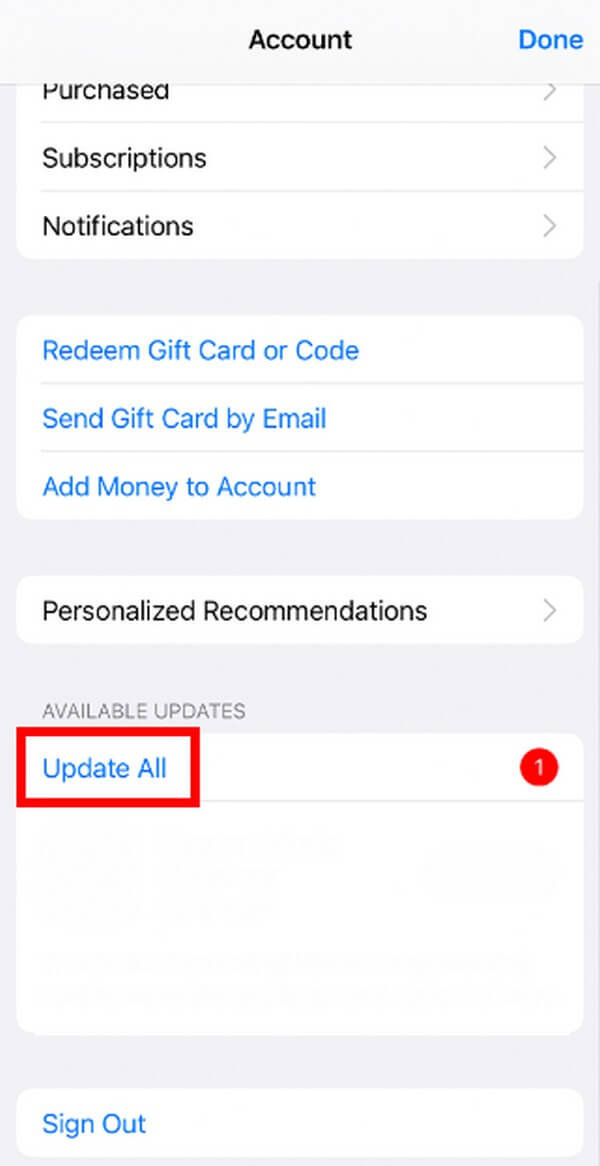 Method 6. Reset iPhone
Meanwhile, there are also lots of issues that can be fixed by resetting devices like iPhones. However, be aware that this method will delete all the data on your device, so you need to think hard if you choose this one.
Adhere to the easy steps below to fix the battery drain iPhone by resetting:
ステップ1あなたのiPhoneで、タップ 設定 > 全般 > iPhoneを転送またはリセットする.
ステップ2次に、 もっと読み込む オプションと選択 すべてのコンテンツと設定を消去 〜へ あなたのiPhoneをリセットする and fix the battery issue.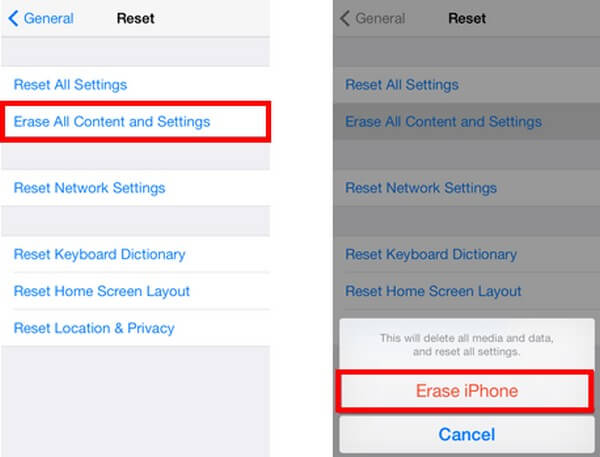 After that, you can set up and use your iPhone as usual.
方法 7. FoneLab iOS System Recovery を試す
FoneLab iOSシステムの回復 is a system repair tool that can easily fix your iPhone's battery if it is caused by software-related issues. If none of the methods above worked or none of them caught your attention, you can try using this efficient program. Unlike other methods, this tool can repair almost all the issues on your iPhone without requiring you to lose data. In fact, it gives you the option to keep your data safe or すべて削除する for a fresh start. Also, it's not like the others that can only fix simple issues. It is a professional tool that can handle even the most complicated problems.

FoneLab iOSシステムの回復
FoneLabはiPhone / iPad / iPodをDFUモード、リカバリーモード、Appleロゴ、ヘッドフォンモードなどからデータを失わずに通常の状態に修正することを可能にします。
無効化されたiOSシステムの問題を修正します。
データを損失することなく、無効なiOSデバイスからデータを抽出します。
安全で使いやすいです。
Adhere to the easy steps below to fix the fast battery drain on iPhone with FoneLab iOSシステムの回復:
ステップ1See the official site of FoneLab iOS System Recovery. On the left portion of the page, select the 無料ダウンロード tab. Afterward, open it and process the installation to run the recovery program on your computer.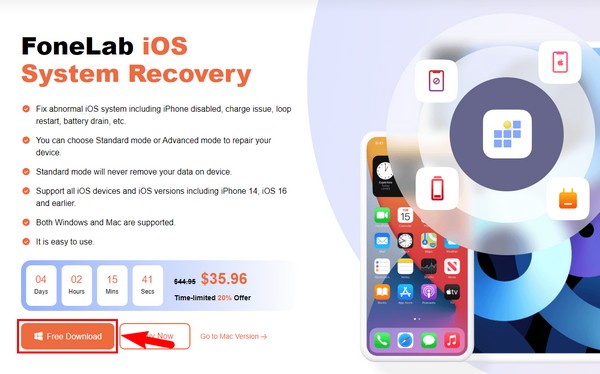 ステップ2選択する iOSシステム復旧 feature on the program's main interface. You may also use the other ones if you need them one day. After that, click the 開始 タブでを確認できます。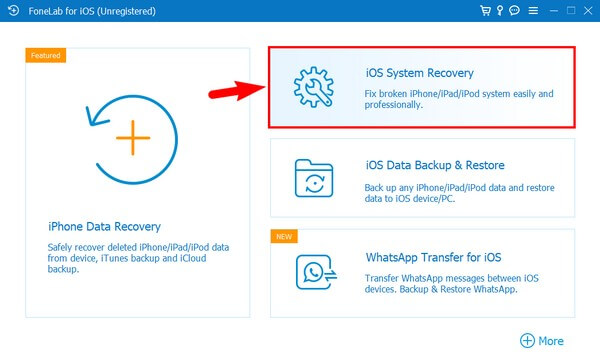 ステップ3On the following interface, select the system recovery mode you prefer. The スタンダードモード can fix your drained battery without losing data, while the アドバンストモード すべてを消去します.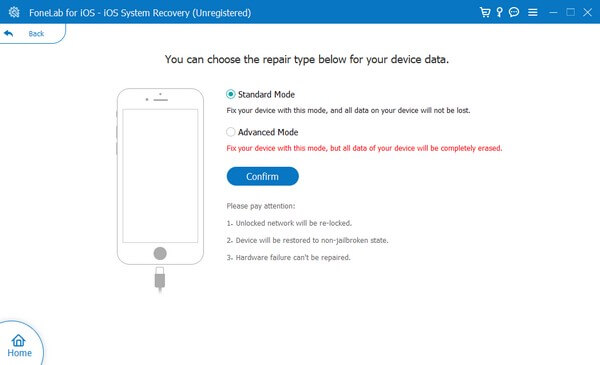 ステップ4Conform to the on-screen guide for your iPhone model to enter Recovery Mode. Later, the firmware will be downloaded to fix your iPhone's drained battery.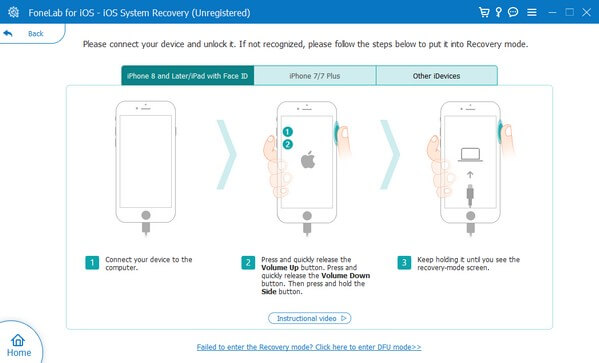 FoneLab iOSシステムの回復
FoneLabはiPhone / iPad / iPodをDFUモード、リカバリーモード、Appleロゴ、ヘッドフォンモードなどからデータを失わずに通常の状態に修正することを可能にします。
無効化されたiOSシステムの問題を修正します。
データを損失することなく、無効なiOSデバイスからデータを抽出します。
安全で使いやすいです。
Part 3. FAQs about iPhone Battery Drain
1. Does Apple Watch drain iPhone battery?
Yes, it does. Since the Apple Watch is connected to the iPhone, it is also one factor that drains the device's battery. But don't worry, as it's not one of the major causes of large battery consumption. The Apple Watch only uses a small capacity of your iPhone's battery life.
2. Do an iPhone battery gets damaged when overcharged?
Yes, it does get damaged. If your iPhone often gets overcharged, this may become a reason why your battery drains quickly. It is also harmful, as it puts more stress on the battery, shortening its life.
3. What uses the most battery life on iPhone?
Two things use the most battery life on iPhone. These are your device's screen and cellular service. Aside from when you're actively using your iPhone, the screen also lights up when any activity comes up in the notifications. And even when you're not using it, tasks are still running in the background, like the cellular service.
Thank you for reading until here. We hope you were able to solve the problem using the methods we provided above. For more solutions, kindly navigate to the FoneLab iOSシステムの回復 サイト。

FoneLab iOSシステムの回復
FoneLabはiPhone / iPad / iPodをDFUモード、リカバリーモード、Appleロゴ、ヘッドフォンモードなどからデータを失わずに通常の状態に修正することを可能にします。
無効化されたiOSシステムの問題を修正します。
データを損失することなく、無効なiOSデバイスからデータを抽出します。
安全で使いやすいです。